On Thursday 18th of May, the presentation of the GoAll application took place, from the PervasiveSUB Project that has been developed by the research group of the University Carlos III in Madrid, counting also with the finance from Telefónica.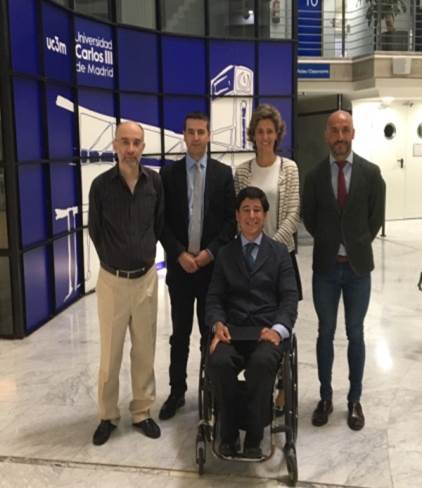 The presentation before the media of communication was performed at the campus Puerta de Toledo of the University Carlos II in Madrid, with the presence of different authorities like Borja Fanjul, General Director of Support Politics for Disability, Jesús Celada, Deputy Director of Participation and Tutelary Organizations, and José Manuel Torralba, General Director of Universities and Research of the autonomous region of Madrid.
The idea came up nearly two years ago, as a result of cooperation between FASOCIDE and this same team with a previous application. Francisco Trigueros requested to Ángel García Crespo, director of the project, for the creation of an application that allows Deafblind people without any remaining functional visual or hearing sense to be able to access different television contents using a Braille line.
Since then, FASOCIDE has cooperated acting as a consultant to the people who have developed the application, providing the Deafblind people's own point of view.
GoAll is a free application that can be downloaded for smartphones with Android operating systems (Play Store) or iOS (Apple Store), and allows you to receive on your phone all the television contents that have subtitles.
If the user has any remaining vision that does not allow them to follow the television subtitles due to the lack of accessibility of these (size, contrast, etc.), they can use this application to read them directly from their mobile. If the user does not have any remaining functional vision, they can follow the television subtitles with this application, using their Braille line that is connected via Bluetooth to the mobile.
From FASOCIDE, we celebrate the arrival of this new application and we are very grateful to Telefónica for supporting this project, and to all the research group of the University Carlos III, especially to Ángel, for his tenacity in breaking a barrier that until now had prevented us to access in equality a high portion of information, culture and leisure.
This application is meant to open a very important door for our community, therefore, we hope that the different media of communication takes part in accessibility and, little by little, incorporates more subtitles so that we can access to it.
Videos:
https://www.youtube.com/watch?v=tPQ33Cwq6NE&feature=youtu.be
https://www.youtube.com/watch?v=urQ4oIikzbA
Download GoAll:
Android: https://play.google.com/store/apps/details?id=com.whatscine.goall&hl&hl=es
iOs: https://itunes.apple.com/es/app/goall/id1163127935?mt=8&at=11ltUj
Altough it is a very intuitive application, if you need any help, you can ask at your Association or Territorial Delegation.